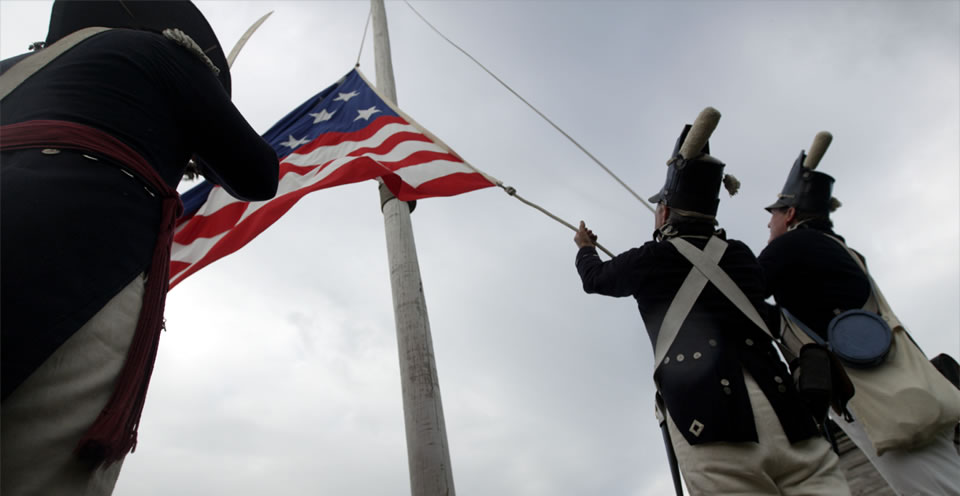 National Steering Committee
H. TYLER NOTTBERG
National Steering Committee Chairman
Chairman and CEO
US Engineering Company
DR. JAMES H. BILLINGTON
Librarian of Congress
ELIZABETH BROUN
Director
Smithsonian American Art Museum
MARK A. ERNST
COO
Fiserv
DANE STARBUCK
Attorney
STEVEN K. HAMP
Board President
The Henry Ford Museum
STEVE PALMER
Principal
Atwood & Palmer Investment
HENRY MORAN
Former Director
The President's Committee on the Arts & Humanities
MARINER KEMPER
Chairman and CEO
UMB Financial Corporation
UMB Bank Colorado
GENERAL RICHARD B. MYERS USAF (RET.)
Former Chairman
Joint Chief of Staff
MARC PACHTER
Director, Retired
Smithsonian National Portrait Gallery
KIRK H. SCHULZ
President
Kansas State University
JOHN UNGER
Attorney
Bowen & Unger, PLC
JAMES VELLA
President
Ford Motor Company Fund
MARLYS and MICHAEL HAVERTY
Executive Chairman
Kansas City Southern
Community Supporter
Academic Advisors
LANCE BANNING was Professor of History at the University of Kentucky, whose Pulitzer Prize-nominated books include The Jeffersonian Persuasion: Evolution of a Party Ideology and The Sacred Fire of Liberty: James Madison and the Founding of the Federal Republic. Dr. Banning recently passed away; his contributions to the project are significant.
ROBERT GEORGE is Director of the James Madison Program in American Ideals and Institutions at Princeton University and the author of several books, including Making Men Moral: Civil Liberties and Public Morality and In Defense of Natural Law.
ALFRED GOLDBERG served as Historian for the Office of the Secretary of Defense and author of several books, including the seven-volume The Army Air Forces in World War II and The Pentagon: The First Fifty Years.
A.E. DICK HOWARD is a Professor of Law at the University of Virginia, executive director of the commission that wrote Virginia's new Constitution and a counsel for other constitutional drafting efforts, including Czechoslovakia, Poland, Brazil and Romania.
JAMES HUTSON is Chief of the Manuscript Division of the Library of Congress and the author of several books including John Adams and the Diplomacy of the American Revolution and To Make All Laws: The Congress of the United States.
CHARLES KESLER is a Professor of Government at Claremont McKenna College and the editor of Saving the Revolution: The Federalist Papers and the American Founding and a new edition of The Federalist Papers.
DAVID E. MARION is a Professor of Political Science at Hampden-Sydney College, a scholar for the Center for Civic Education and author of The Jurisprudence of William J. Brennan: The Law and Politics of 'Libertarian Dignity.'
ROBERT M.S. MCDONALD is an Associate Professor of History at the United States Military Academy and is currently working on Confounding Father: Thomas Jefferson and the Politics of Personality.
STEPHEN F. SMITH is a Professor of Law at the University of Virginia, whose past law work includes serving as a law clerk to Supreme Court Justice Clarence Thomas.
EUGENE VOLOKH specializes in First Amendment law, cyberspace law, harassment law and gun control policy at UCLA Law School and has clerked for Supreme Court Justice Sandra Day O'Connor.
JON WEFALD is Past President of Kansas State University and has served as an administrator and Professor of American History at several universities.
KEITH WHITTINGTON is a Professor of Politics and Director of Graduate Studies in the Department of Politics at Princeton University and the author of Constitutional Construction: Divided Powers and Constitutional Meaning.
GORDON WOOD is Emeritus Professor of History at Brown University and one of the foremost scholars on the American Revolution whose books include the Pulitzer Prize-winning The Radicalism of the American Revolution.
TODD ZYWICKI is a Professor of Law at George Mason University and currently co-editor of the Supreme Court Economic Review and was recently named a member of the U.S. Department of Justice Study Group on "Identifying Fraud, Abuse and Errors in the U.S. Bankruptcy System."
Production Team
AIMÉE LARRABEE
Owner of Inland Sea Productions
Lead Producer
Recipient of an Emmy Award for documentary production, three nominations for general excellence in the National Magazine Awards and numerous educational honors; writer for a variety of national publications including USA Today.
Developed, created and produced a variety of projects over the past 17 years, including the Emmy-nominated PBS documentary film, The Last Stand of the Tallgrass Prairie, which included a companion art book she co-authored, published by Barnes & Noble.
Produced and directed two IMAX short films: Kansas City Presents and Celebrate Detroit, numerous documentaries, educational films, interpretive programs and visitor center films, including the Mount Vernon Visitor's Center film.
Interviewed and directed film tribute biographies on Sir Andrew Lloyd Webber, Canadian Prime Minister Stephen Harper, New Zealand Prime Minister James Bolger, Nobel Laureate Peter Doherty and numerous other political and creative leaders.
JOHN ALTMAN
Owner of Pentacle Productions
Producer
Produced and directed a broad variety of award-winning documentary, dramatic, educational and corporate films and television programs, many of which have aired nationally on cable networks and PBS, including The Last Stand of the Tallgrass Prairie with Ms. Larrabee.
CHIP CRONKITE
Cronkite Productions
Produced and directed numerous documentary films in conjunction with his father, the late iconic newsman, Walter Cronkite.
LINDA ENDECOTT
Development Director
Successfully created sponsorship and funding programs for a variety of national organizations, both private and public.
JODI CAPPS MILLER
Distribution Director
Two decades of IMAX film distribution experience, including the distribution of "Lewis and Clark".
Curriculum Development Team
DEBORAH BROWN
Curriculum Development
Deborah Brown received her Masters in Curriculum and Instruction from the University of Kansas and has been active in the writing and development of standards and lessons for the past 30 years. A former classroom history teacher and adjunct college instructor, she has been the social studies curriculum specialist for the Shawnee Mission School District, a suburban district in the Greater Kansas City area where she oversees all curriculum development, instruction programs and teacher training for social studies K-12.
Deborah has presented at both the state and national level for the National Council for History Education and she is a past president of the Kansas Council for Social Studies. She recently completed work on writing the K-12 History/Government Social Studies standards for the state of Kansas. She was the Kansas coordinator for the National Student-Parent Mock Election and the Kansas Coordinator for the Kansas Youth in Government Program. Currently she is serving on the state advisory board for iCivics and on the Board of Directors for the International Relations Council of Greater Kansas City.
MARY McMURRAY 
Curriculum Development
Mary McMurray is the director of The White House Decision Center, the Truman Library Institute's nationally acclaimed educational program at the Harry S. Truman Library and Museum in Independence, MO. Mary earned a B.A. and M.A. in history from the University of Missouri and the University of Missouri—Kansas City (UMKC), respectively, and is working toward her doctorate in American History at the University of Kansas (KU). While at UMKC and KU, Mary taught courses on women's history as well as history theory and methods. Prior to her role as a college educator, she worked as Project Manager of Children and Youth in History, an online educational resource focused on the roles of young people throughout history.
KRIS LARSON
Curriculum Development
Born and raised in St. Joseph, MO and currently an AP Government teacher and Instructional Coach at Central High School in St. Joseph, MO. I have my Bachelor of Science in Comprehensive Social Sciences, History, and Education from Nebraska Wesleyan University, my MA in History from Northwest Missouri Sate University, and am working on my doctorate from University of Missouri in Educational Leadership and Policy Analysis. I passed my comps last week so I am ABD (All but dissertation!!)I have a passion for helping others learn about our government and the founding of our nation. I love teaching, and was inspired to go into the profession to make history come alive for future generations. I had many teachers who inspired me along the way, and I want to continue the tradition! I love what I do!I was inspired by the story of "We the People" and what the movie communicates about our nation. I hope this project will preserve the principles of liberty, and foster a discussion on who we are as a nation and what we stand for as a country.
Creative Team
JOHN MISTLER
Music Composer
John Mistler is an Emmy-nominated composer residing in Los Angeles, is a graduate of Berklee College of Music in Boston and holds an MFA from the University of Missouri, Kansas City. John has written music for a WB Network television series created by the executive producer of ABC's LOST, as well as original scores for film, television, radio and theatre productions such as Last Stand of the Tallgrass Prairie, As You Like It, Inherit the Wind, An Absolute Turkey, A Passport to Japan, Over KC, as well as national advertising campaigns for Sprint, H&R Block and Russell Stover.
JOSEPH P. MANDACINA​
Director of Photography
A winner of many national awards for his lighting – through color correction – and camera operation, Joe has filmed with full camera crews both on sound stages and on locations in all fifty States and several foreign countries in the course of production of television, documentary, educational, sports, and corporate motion pictures for scores of major clients. He has also served as lead or second cameraman on several feature films, including Robert Altman's Kansas City and Ang Lee's Ride with the Devil, as well as Director of Photography on two previous IMAX Signature films for Aimee Larrabee and John Altman.
BRUCE BRANIT
Award-winning CGI Special Effects Artist
Known for his regular work on Breaking Bad, Lost, Star Trek: Voyager and numerous other television series. His viral film World Builder became a #1 YouTube hit.
TERI ROGERS
Post-Production Design
CEO of Take Two Productions in Kansas City, post-production designers and editors with a twenty-year history working with ABC, Hallmark, Relativity Media and countless advertising agencies.
RICK GORDON
Post-Production Supervisor
President of RPG Productions, known for their IMAX work in conjunction with NASA, Universal Studios, National Geographic and more.
REBECCAH BOESHAAR 
Associate Producer
With close to a decade of experience garnered all over the country, Rebecca Boeshaar has worked in every aspect of film production. She has contributed to numerous productions in her two years with the great team at Inland Sea Productions. Boeshaar has a BA in Film, Television, and Digital Media from Texas Christian University and an MA in Cinema Studies from New York University.
JORDON RIOUX 
Film Editor & Post-Production Manager
Jordon Rioux is an award winning Film Editor and Cinematographer who has worked on many productions in the film and TV industry for more than 12 years. His incredible eye and unique storytelling ability make him an invaluable member of the team.
CHRISTOPHER VALLADOLID GONZALEZ
Creative Art Director
Christopher Gonzalez is a Web and Graphic Designer responsible for conceptualization and designing graphics for We the People, such as collateral material, books, posters, websites and identity. He has worked on many projects for universities and entertainment industries.
KYLE HAMRICK
Motion Designer
For the past ten years, Kyle has worked as a video editor and motion designer for various Kansas City-based production companies and now co-owns his own media production studio, The Feral Few. He's cut local TV spots, managed full in-stadium graphics packages for professional sports franchises, done compositing and effects work on primetime network TV shows and done pretty much everything in between. Kyle received a Bachelor's degree in Theater and Film from the University of Kansas in 2003.
MIKE "SAVAGE"
Audio Engineer / Sound Designer
Mike Savage is a Producer, Audio Engineer and Sound Designer who has worked in the entertainment industry for the past eighteen years. He has produced projects for television, radio, professional sports teams and motion pictures.